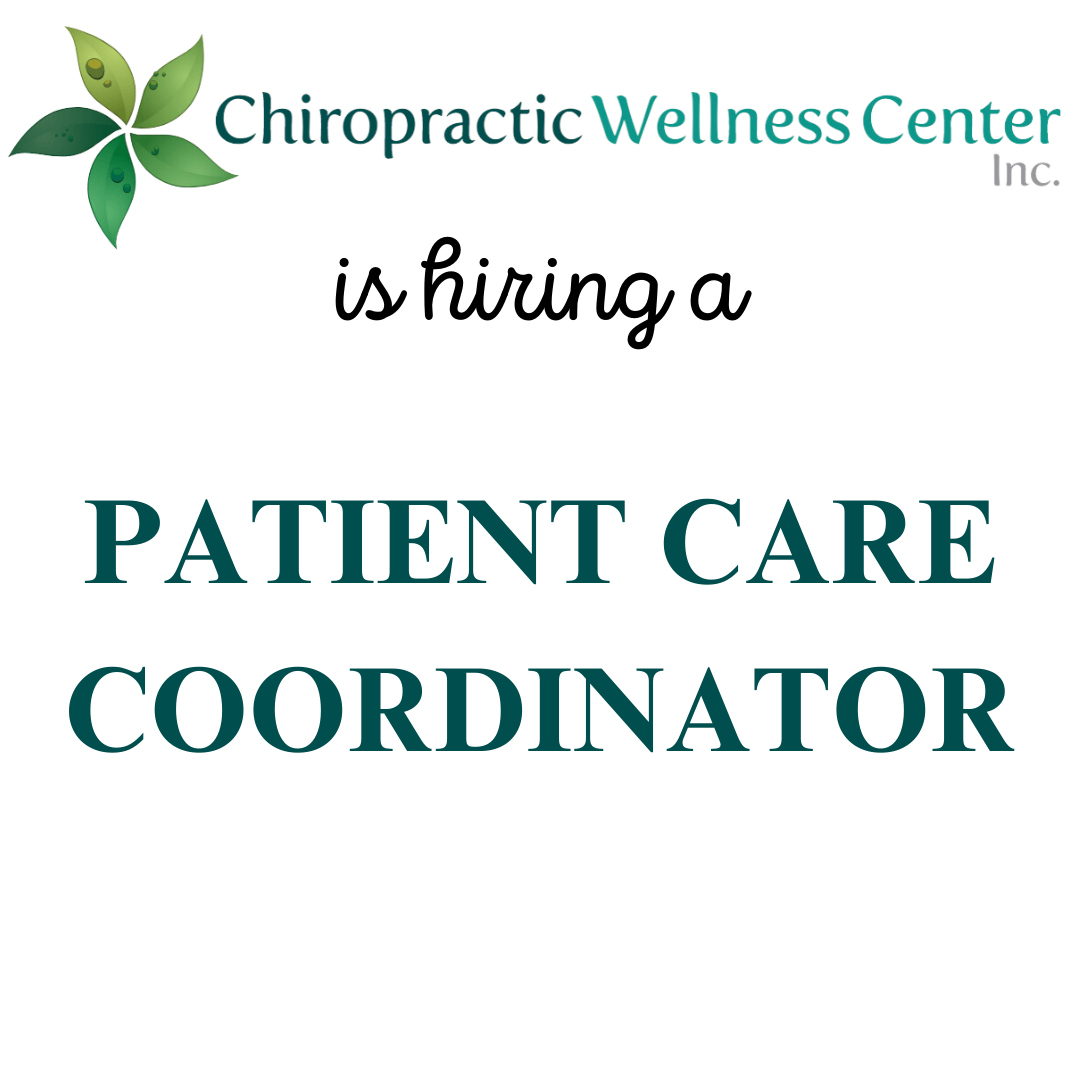 We are hiring a Patient Care Coordinator that brings excellence, motivation and professionalism to our practice.  Your main responsibility in this role is to influence and motivate people with your skills, organization and dedication to chiropractic.  Here are a few more details about the role, what to expect, and how to apply!
Please email frontdeskapplicants@yahoo.com with any questions about the application or the position.
Qualifications:

Can wear multiple hats and adapt to rapidly changing conditions.
Excellent ability to work with and motivate people.
Takes initiative and self-motivated.
Has a strong work ethic.
Exudes energy, confidence, capability.
Able to improve and enhance office efficiency and function.
Desires to grow into a leadership role on our team.
Skills:

Strong spelling, mathematical, and alphabetizing ability.
Strong phone voice and presence
Comfortable and compassionate with children, people with special needs, and those in pain or discomfort.
Ability to prioritize changing needs and tasks; simultaneously use systems to stay organized.
Confident with money and financal transactions.
Technical skills:

Microsoft Office including Outlook, Word and Excel
Canva or other graphic design platforms
Social Media
Will be required to learn how to navigate ECLIPSE- our patient management software.
Responsibilities and Tasks:
Implement Plan of Care with patient appointment management.
Lift spirits and have fun influencing the health and wellbeing of patients.
Execute patient checkout tasks with an eye for detail.
Keep patient information confidential and HIPPA compliant.
Communicate with outside referral sources and providers.
Answer phone calls and relaying messages as needed.
Call patients to schedule and follow-up on appointments.
Represent chiropractic and Chiropractic Wellness Center professionally and honorably.
Change hats, as needed, for the greater good!
Benefits:
Competitive Pay
Performance-based Incentives
Paid Time off
Wellness Discounts
Chiropractic Care
Hours:
Our office is open to patients Monday, Tuesday and Thursday from 8:00am to 6:00pm.
Wednesday and Fridays are office administrative days.
The goal is to work 30-35 hours a week.
Your work schedule would be discussed and set upon hiring.
How to Apply:
Send email to frontdeskapplicants@yahoo.com and include the following:

Your Resume
Completed application

Complete the Application Form: LINK HERE
Attach form to your email.

A Video Introduction 

Instructions for the video:

We would love to get to know you! Please create a 3-5 minute video:

Introduce yourself.
Let us know why you are the best person for our patients.
Where is your favorite place in the world to eat?
What is the best piece of advice someone has ever given you?
Any additional information you would like us to know about you!

We realize a video file of this size may not email well.  A few options to share the video:

Use the free version of the website Wetransfer.com to share the file. (It's okay if it's a separate email, but please include your name in the description and file name!)
You can upload to a site like Youtube or Vimeo, and share the url with us!
**We are using a 3rd party recruiter for the initial hiring process. They will be in touch no later than 2 weeks after you send the application email. Please no direct messages to Chiropractic Wellness Center in regards to this application.