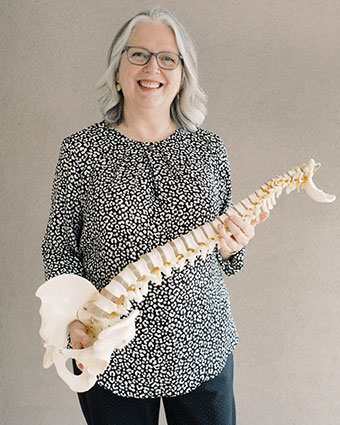 Meet Dr. Shelly Jones
Training with Experts in the Field
Dr. Shelly attended Life University in Marietta, Georgia, graduating with her Doctorate of Chiropractic degree in 1985. While in school, she had the experience of learning and working with leaders in the profession. Dr. Larry Webster, developer of the Webster Technique, was her supervising doctor while an intern at the Luckie Street Clinic. She also met and studied with Dr. J. Clay Thompson, founder and developer of the specialized adjusting tables and technique she currently uses.
Returning home to Poplar Bluff, Missouri, she continued to learn from local masters and mentors Dr. Sam Mickey and Dr. Ralph Ungerank. She built a family practice in Missouri until 1990, when she moved to Columbia, South Carolina.
While in South Carolina, Dr. Shelly has had a variety of experiences in the chiropractic field. She managed a corporate group of chiropractic offices in various cities, as well as helped staff and manage operations for a local chiropractor while keeping a part-time practice during the early years of parenthood.
Currently, Dr. Shelly maintains a full-time family practice in Forest Acres. She is certified in the Webster Technique, specializing in the care of pregnant women, and has studied extensively with the International Chiropractic Pediatric Association. Caring for newborns and infants is a very special part of her practice. Locally, she is a member of the Forest Acres Restaurant and Merchants Association. She is also a board member of the Palmetto State Chiropractic Association. Most notably, she has been honored to be voted Best Chiropractor by readers of Columbia Metropolitan Magazine since 2015, and in 2021 she was recognized as Chiropractor of the Year by Palmetto State Chiropractic Association.
EXPLORE OUR SERVICES

Outside of the Office
Even though she frequently refers to her office as her "Third Child", Dr. Shelly's real children are her greatest joys! They both attended Montessori schools in their pre-school years, and then moved on to attend and graduate from Heathwood Hall Episcopal School. Pierce was a Vanderbilt scholarship recipient who graduated with a biomedical engineering degree, worked with Teach for America for three years, and then graduated from the Medical University of South Carolina in 2020. Currently, he is an anesthesiology resident at Vanderbilt Medical Center in Nashville, TN.
Charlotte attended "the other" USC and graduated from the Marshall School of Business at the University of Southern California in 2017. She had the opportunity to intern with various businesses in the LA area before settling in New York with a business position at Rag & Bone clothing. Currently, she is in marketing/sales with LinkedIn and enjoys traveling and running marathons.
Just a sweet Frenchie named Gus is the only "grand" in the family…so far. Traveling (mostly, to visit her children and Gus!), needlepoint, sewing, and a little herb garden keep Dr. Shelly busy and relaxed outside the office.
Get Started Today
Find out more about chiropractic and what we can do for you – contact Chiropractic Wellness Center, Inc. in Columbia today!
---
Dr. Shelly Jones | (803) 771-9990