New Patients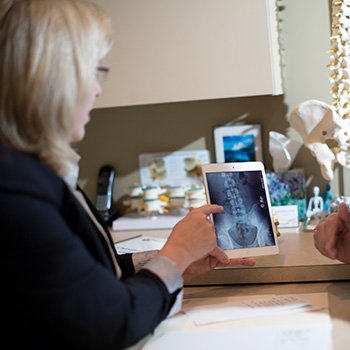 We will help you assess your needs and then develop a Plan of Care to guide you through the recovery and restorative process of regaining your health and energy. Our goal is to correct misalignments of the spine (Vertebral Subluxations) to reduce stress to the nervous system so your body can heal and function naturally through its own inborn or Innate Intelligence. Chiropractic care can help you feel better, move easier, build stronger immunity, and age well!
The first thing you'll notice about our office is our attitude. We are here to serve you and provide you with the best care and support possible. Our office is easy and patient-friendly. We want you to have a five-star experience with our office and with your results.
The first visit you have with Dr. Jones is a consultation so you can actually talk. That's right, she wants to talk to you about you and your history, past health experiences or problems, current needs, and your health goals. This visit can last anywhere from 30 to 60 minutes, depending on your needs. Dr. Jones will then reevaluate all the information gathered, any x-rays or other diagnostics, and notes from other offices and outline a program of chiropractic care to help meet your needs and goals. Your next visit is spent with Dr. Jones reviewing her recommendations. The patient is always in control, and we are prepared to begin care immediately or whenever you choose.
Established Patients
Regular chiropractic care visits will take as much time as needed but generally are very easy to plan and schedule. We want to honor your time as much as we do our own, so we work diligently to stay on schedule and plan your appointments as "easy in, easy out." If you are seeing our massage therapist, you may schedule both services for the same time, too.
Periodically, we will have you complete paperwork to update your status and concerns or to review our original plan and goals. Or, in the event of an accident or injury, we will reevaluate current needs to best help you heal. Health is an ever-evolving journey, so your care should be, too. Once an established patient, we consider you a patient for a lifetime. We will adapt your care as your needs and experiences change.
Chiropractic Wellness Center, Inc. offers a relaxed, positive atmosphere with a semi-open adjusting space that's cozy and comfortable. Private rooms are available when needed, and you'll always get the one-on-one attention you need.
Your first two visits take 45 minutes to an hour. Subsequent appointments take 20 minutes or less, and we pride ourselves on being punctual so that you can plan your schedule accordingly.
NEW PATIENT PAPERWORK »
Contact us today to find out more or book your time with the Best Chiropractor in Columbia as voted by readers of Columbia Metropolitan Magazine!

New Patient Center | (803) 771-9990